Wooden Staff is a weapon in Shadow Fight 3 introduced in Chapter II. It is a Rare staff and belongs to the Dynasty faction. Wooden Staff has 2 item slots which can be customized with applicable Perks and Special Moves. Like all rare Dynasty weapons, it carries the Tornado Shadow Ability. Wooden Staff can be seen wielded by Galen in some occasions.
Players will be equipping the Wooden Staff during the New Home, New Friend quest, and they will be rewarded with the weapon after passing the quest. Players can then upgrade the Wooden Staff by the shop for a determined amount of price, obtaining it as a random reward after winning any fight in Chapter II, by opening a Chest (better chest have higher chance), or by purchasing the Dynasty Booster Pack.
Other variants includes:
Attack Overview
Edit
Disclaimer: The preview below uses Gilded Staff as the weapon. Both Wooden Staff and Gilded Staff shares the exact same moveset, with the only differences being the rarity and design.
Move
Name
Controls
Staff Stance

Staff Hits
, ,

Staff Heavy Hit
Hold

Staff Spinning Hits
+ ,

Staff Upper Hits
+ ,

Staff Low Hits
+ ,
Shadow Ability
Edit
Main article: Shadow Ability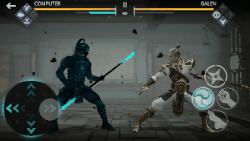 Leaps forward while spinning horizontally with a whirl of Shadow energy around them, knocking back the opponent.
Special Moves
Edit
Main article: Special Move
Two special moves are available for the Wooden Staff's item slots. Only one move can be equipped at a time.
| Icon | Name | Controls | Move |
| --- | --- | --- | --- |
| | Wooden Hailstorm | + , | |
| | Skyfall | | |
In Chinese, staff is refered to as gun (棍, literally rod, stick). Staff is known as one of the four major weapons in Chinese martial arts, along with the qiang (spear), dao (sabre), and the jian (straight sword). It is called, in this group, "The Grandfather of all Weapons".
Community content is available under
CC-BY-SA
unless otherwise noted.