The best source of information for the Shadow Fight Series  



We are maintaining 946 articles and 16,288 files since June 2012.


---
♦ Refer to our policies for the Wiki's rules and writing guidelines.
♦ Unsure about how to edit? Head over to the help section to learn the basics!
♦ Check out the forums to ask a question or start a discussion.
♦ Contact an Administrator if you require further assistance.
♦ If you haven't already, create an account to keep better track of your contributions.

This Wiki is a standalone source of information provided by the players. Any licensed material found on this website falls under terms of fair use. All user-created content available under CC-BY-SA.
Articles on this Wiki may contain spoilers regarding the Shadow Fight games. We do not provide spoiler warnings!
Download the Game
Official Shadow Fight Channels


Write to Us!
For any questions, complaints or suggestions regarding the Wiki, email us on
wiki.shadowfight@gmail.com


Join up and chat with fellow Shadow Fight 3 fans on Discord:
Click here for an invite!

This is a list of currently active members. For the complete list see Wiki Staff.

November 3, 2020
Shadow Fight Arena is now available for dowload worldwide!
---
June 16, 2020
We are now 8 years old. Cheers!
---
January 1, 2020
A very happy 2020 from everyone at the Shadow Fight Wiki!
---
October 11, 2019
The event has now ended. See the list of winners here.
---
September 25, 2019
The Wiki - FB event is now live! Click Here for details.
---
January 1, 2019
Happy 2019 from everyone at the Shadow Fight Wiki!
---
June 16, 2018
The Wiki is now 6 years old! A thank you note from the Admin.
---
April 15, 2018
Wiki Policies have been updated. Click here to read them, and here to participate in the discussion.
---
April 03, 2018
Become a Shadow Fight Wiki Rollback/Discussion Mod. See this post for details.
---
January 19, 2018
You asked, they answered! Click here to read the replies.
---
January 11, 2018
Ask the game developers about Shadow Fight lore. Post your questions here!
---
January 1, 2018
A very Happy New Year 2018 from the Admins of Shadow Fight Wiki!
---
Flying Jade
---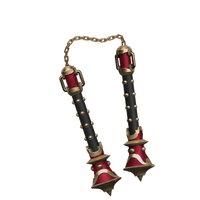 Flying Jade is a weapon unlocked in Chapter IV of Shadow Fight 3. It is a Legendary nunchaku and belongs to the Dynasty faction. Flying Jade is a part of Octopus Of The Damned Set, which comes with a bonus when the full set is equipped. Flying Jade has 3 item slots which can be customized with applicable Perks and Special Moves. It carries the Flail Shadow Ability.
Flying Jade can be bought from the shop for a determined amount of price. They can also be obtained as a random reward after winning any fight in Chapter IV - VI, by opening a Chest (better chests have higher chances), or by purchasing the Dynasty Booster Pack.... (read more)

See All Featured Articles