Reputation points were needed to unlock fatalities that could be performed at the end of every battle in Shadow Fight. This was to encourage players to connect with more Facebook friends who played the game.
Obtaining Reputation
Players could obtain reputation if friends visited their character's profile and clicked on the button with a 'thumbs up' sign. Players could also give reputation to their friends the same way. However, this could only be done once a day and was the only way to earn reputation.
Unlocking fatalities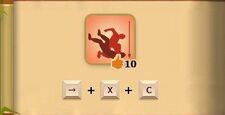 If players had enough reputation points, they were able to use a fatality.
The following is a list of available fatalities and the required reputation points.
Throw with finishing - 10 reputation points
Sky kick - 50 reputation points
Slide finishing - 150 reputation points
Arm breaker with finishing - 400 reputation points
More in