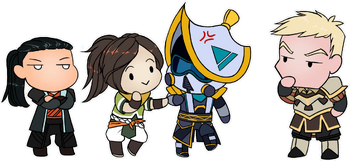 Hello, welcome to my message wall! You can leave a message here if you need any help or maybe just want to have a casual talk.
Before you drop your question, make sure to check this FAQ below, the answers you're searching for could be in this list.

Q: When will Chapter 7.2 come?
A: I would like to know too, only Nekki knows when new chapters will come. As Nekki themselves said, it's no sooner than mid-November this year. Don't even assume it's going to be at mid-November, let alone earlier than that.
Q: How to get promo code? Please give me promo code.
A: I'm not the dev, I don't have the ability to give you any codes. Promo codes are rewards for winning contests held by Nekki in their Facebook/Twitter/Vk page. That's the only way to get it at this moment. Make sure to visit their official Vk page frequently, they often held contests there.
Q: I didn't get Fate's End while I was in Chapter 3. Now I'm in Chapter 4, but Fate's End disappeared from the booster packs. I can't find it in chests either. Is there a way to get Fate's End other than Archive packs?
A: Yes. The shop now sells items from past chapters.
Q: Does slicing booster packs many times give better cards?
A: No. That's a myth.
Q: I want to start a new progress. Can you help me?
A: Nekki hasn't implemented a way to have two or more progresses. If you want to delete your old progress and start a new one, contact Nekki via in-game support option and tell them to do so.
---
Q: I can't unlock Titan level, I completed Interlude and it says Coming Soon.
A: If you're playing on iOS or Android, simply update your game from their respective store. If you're playing the Windows version, then there's nothing you can do. Windows version is terribly outdated and most likely will stay that way, it doesn't have Titan level.
Q: I obtained an item from Monk's Set. How do I use the Tempest Rage?
A: To use Tempest Rage in fights, you need to equip a complete set of items enchanted with Tempest Rage (weapon, armor, helm, ranged, and magic). Once you've collected the full Monk's Set, you'll unlock the option to enchant other items with Tempest Rage.
Q: If I enchant my Monk's Katars with a Medium Recipe, will the Tempest Rage be gone?
A: No. Simple and Medium enchantments will not replace Mythical enchantments, and vice versa.
Q: The enchantment power of my gem weapon is lowered. Why is that?
A: That was a bug. It has been patched now, update your game to the latest version.
Q: How do I unlock the Typhoon of Spirit?
A: Collect all the items of the Sentinel's Set. To do this, you have to purchase the Chest of Souls Keeper from the raid-shop. For each purchase, you'll obtain a random item from the Sentinel's Set. The set consists of 5 items, and the chest costs 1,199 gems. So, you need to buy the chest 5 times, which will cost you 5,995 gems.
Q: How to get Titan's Sword?
A: You can't.
Give Kudos to this message
You've given this message Kudos!
See who gave Kudos to this message
Community content is available under
CC-BY-SA
unless otherwise noted.