Heavy Kusarigama is a weapon in Shadow Fight 2. Defeating the challenger Outcast in Act V rewards the player with this weapon.
Gallery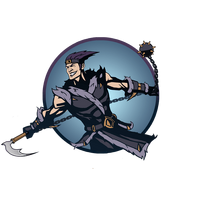 Attack Overview
Move
Name
Power
How to Perform Combo

Kusarigama Stance
Start of Fight

Kusarigama Slash
10
Punch

Kusarigama Double Slash
10
12
Punch, Punch

Kusarigama Strong Slash
21
Forward+Punch

Kusarigama Super Slash
10
8
15
Forward+Punch, Punch

Kusarigama Spinning Slash
11
Backward+Punch

Kusarigama Upper Slash
11
8
Up+Punch

Kusarigama Low Slash
12
9
Down+Punch
Trivia
Despite its name, this weapon is not heavier than the Kusarigama and has the same attack speed as the normal Kusarigama.
Kusarigama (鎖鎌, lit. "chain-sickle") is a traditional Japanese weapon that consists of a kama (the Japanese equivalent of a sickle) on a type of metal chain (kusari) with a heavy iron weight at the end.