Flying Jade is a weapon unlocked in Chapter IV of Shadow Fight 3. It is a Legendary nunchaku and belongs to the Dynasty faction. Flying Jade is a part of Octopus Of The Damned Set, which comes with a bonus when the full set is equipped. Flying Jade has 3 item slots which can be customized with applicable Perks and Special Moves. It carries the Flail Shadow Ability.
Flying Jade can be bought from the shop for a determined amount of price. They can also be obtained as a random reward after winning any fight in Chapter IV - VI, by opening a Chest (better chests have higher chances), or by purchasing the Dynasty Booster Pack.
Other variants include:
Attack Overview
Disclaimer: The preview below uses Weightened Nunchaku as the weapon. Since both Flying Jade and Weightened Nunchaku are Nunchakus, they share the exact same moveset, with the only differences being the rarity and design.
| Move | Name | Controls |
| --- | --- | --- |
| | Nunchaku Stance | Start of Fight |
| | Nunchaku Hits | , |
| | Nunchaku Heavy Hit | Hold |
| | Nunchaku Spinning Hits | + , |
| | Nunchaku Upper Hits | + |
| | Nunchaku Low Hits | + |
Shadow Ability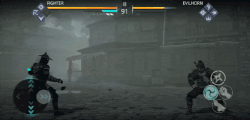 Throws the Nunchaku forward, the Nunchaku will fly forward while spinning vertically, before returning to the player, potentially striking the opponent again from behind.
Special Moves
Two special moves are available for the Flying Jade's item slots. Only one move can be equipped at a time.
| Icon | Name | Controls | Move |
| --- | --- | --- | --- |
| | Hummingbird | + , , , | |
| | Ape Rampage | | |
Octopus Of The Damned


Octopus Of The Damned is a set of equipment that can be fully collected once the player reaches Chapter IV, which consists of:
Ability Overview
Description
Notes

Your fire orbs stun enemy with a succesful attack.

Hitting the opponent with a bomb will stun them for 3 seconds.
The user can "re-apply" the stun by hitting the stunned opponent with another bomb. This can be done infinitely, as long as the ranged weapon is not in cooldown.
The opponent must not be knocked down by the bomb in order for the stun to take effect.
Trivia
Flying Jade was seen used by Ran Di during the closed beta test.
Nunchaku is a traditional Okinawan martial arts weapon, most widely used in martial arts such as Okinawan kobudō and karate.