Final Countdown are a set of weapons in Shadow Fight 3 unlocked in Chapter VII, Part I. They are a set of Legendary Flail and Shield and belong to the Legion faction. The stretchable flail is used as the main offense, while the foldable shield is used to protect the user from attacks, or sometimes being used for offensive purpose as well. Final Countdown features 3 item slots which can be customized with applicable Perks and a Special Move. It carries the Meteorite Shadow Ability.
Final Countdown can be bought from the shop for a determined amount of price. It can also be obtained as a random reward after winning any fight in Chapter VII, by opening Chests (better chests have higher chances), or by purchasing the Legion Booster Pack.
Other variants include:
Attack Overview
Disclaimer: The preview below uses Restrainer as the weapon. Since both Restrainer and Final Countdown consist of a Flail and a Shield, they share the exact same moveset, with the only differences being the rarity and design.
| Move | Name | Controls |
| --- | --- | --- |
| | Flail and Shield Stance | Start of Fight |
| | Flail and Shield Hits | , , |
| | Flail and Shield Heavy Hit | Hold |
| | Flail and Shield Spinning Hits | + |
| | Flail and Shield Upper Hit | + |
| | Flail and Shield Low Hit | + |
Shadow Ability
Main article: Shadow Ability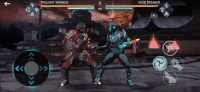 Spins the flail vertically for a second, before swinging the flail upward into the sky. After a moment, the user pulls the flail down, bringing along a giant meteorite to crush the opponent.
Special Move
Main article: Special Move
| Icon | Name | Controls | Move |
| --- | --- | --- | --- |
| | Banishing | + , , | |
Condensing Eraser Set
Main article: Equipment Sets (SF3)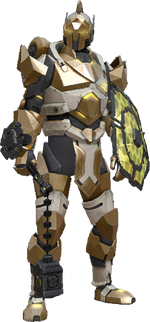 Condensing Eraser Set is a set of equipment from Chapter VII which consists of:
Weapon
Armor
Helm
Ranged Weapons

Final Countdown


Meteorite
Shine


Thud
Aura


Pivot
Citadel

Removal
Ability Overview
Description
Notes

Every successful block adds 20% to your Shadow Energy. Recharge the ability by hitting your opponent.

Blocking any hits successfully charge the user's shadow bar by 20%, indicated by a blue badge under the user's healthbar. When this effect takes place, the shield will glow in cyan. Works only in one block.
Once a block is performed, the shadow-recharging effect has to be recharged by dealing 3 successful hits to the opponent, indicated by 3 red badges that replace the previous blue badge.
Community content is available under
CC-BY-SA
unless otherwise noted.