Double Skivers are a weapon in Shadow Fight 3 introduced in Chapter VI. They are a pair of Rare swords and belong to the Legion faction. Double Skivers has 2 item slots which can be customized with applicable Perks and Special Moves. Just like all Rare Legion weapons, they carries the Crush Shadow Ability.
Players can buy the Double Skivers from the shop for a determined amount of price. They also can be obtained as a random reward after winning any fight in Chapter VI, by opening a Chest, or by purchasing the Legion Booster Pack.
Other variants includes:
Attack Overview
Edit
Disclaimer: The preview below uses Ripping Kit as the weapon. Since both Double Skivers and Ripping Kit are Swords, they shares the exact same moveset, with the only differences being the rarity and design.
Move
Name
Controls
Swords Stance

Swords Slashes
,

Swords Heavy Slash
Hold
Swords Spinning Slash
+
Swords Upper Slash
+
Swords Low Slash
+
Shadow Ability
Edit
Main article: Shadow Ability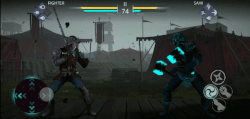 Smashes the ground with both hands, causing spikes to emerge from the ground in a small radius around the player. Opponent caught in the radius take damage to their health.
Special Moves
Edit
Main article: Special Move
Four special moves are available for the Double Skivers's item slots. Only one move can be equipped at a time.
| Icon | Name | Controls | Move |
| --- | --- | --- | --- |
| | Shredder | + , | |
| | Pendulum | + , | |
| | Grinder | | |
| | Harvester | + , , | |
Community content is available under
CC-BY-SA
unless otherwise noted.