Cyan Talons are a pair of weapons in Shadow Fight 3 unlocked during Chapter III. They are a pair of Legendary Claws and belong to the Heralds faction. Cyan Talons are a part of the Gloomy Spectre Set, which comes with a fight bonus when the full set is equipped. They have a high boost in critical chance, low range, and feature 3 item slots which can be customized with applicable Perks and Special Moves. Cyan Talons carry the Pounce Shadow Ability. They are wielded by the Spectres, Heralds unit that are specifically tasked in securing Bolo's safety.
Cyan Talons can be bought from the shop for a determined amount of price. They can also be obtained as a random reward after winning any fight in Chapter III, by opening a Chest (better chests have higher chances), or by purchasing the Heralds Booster Pack. Players must reach level 7 before they can equip and use it.
Other variants include:
Attack Overview
| Move | Name | Controls |
| --- | --- | --- |
| | Claws Stance | Start of Fight |
| | Claws Slashes | , |
| | Claws Heavy Slash | Hold |
| | Claws Spinning Slashes | + , |
| | Claws Upper Slash | + |
| | Claws Low Slashes | + , |
Shadow Ability
Main article: Shadow Ability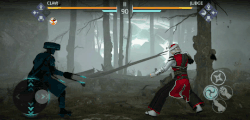 Leaps and pounces forward through the opponent, before turning around in mid-air and pouncing back while slashing with both claws.
Special Moves
Main article: Special Move
Two special moves are available for the Cyan Talons' item slots. Only one move can be equipped at a time.
| Icon | Name | Controls | Move |
| --- | --- | --- | --- |
| | Scraper | + , | |
| | Feral Fury | + , , | |
Gloomy Spectre
Main article: Equipment Sets (SF3)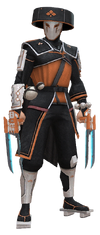 | | | |
| --- | --- | --- |
| " | Spectres were often called living statues. They were standing at the every doorway in Bolo's lair. Silent and still. Bolo provided them with traditional armors of the first Heralds. Spectres look like relics, out of place in modern times. | " |

Gloomy Spectre is a set of equipment from Chapter III, which consists of:
Ability Overview
Description
Notes

Gain spectre badges for up to 3 successful hits to increase your damage by 50%. Badges are lost overtime.

Each unblocked attack of any types (claws slashes, unarmed hits, ranged attacks or shadow abilities) will grant the user with one spectre badge.
A spectre badge lasts for 4 seconds. Delivering any attacks to the opponent will reset the timer and (if the user has less than 3 badges) grants one more badge to the user.
The ability will become active once 3 spectre badges have been gained, indicated with the claws glowing in cyanish energy.
The ability will increase the damage of claws attacks and the Pounce shadow ability. When these attacks land, two cyanish energy streaks will be formed on the claws, indicating that the damage buff is taking effect.
Community content is available under
CC-BY-SA
unless otherwise noted.