A
clan
was a group of players that join together to fight
bosses
more efficiently. Being in a clan helped players defeat a boss in a smaller amount of time and with less effort, as their clan members could join them in defeating bosses and
demons
.
Obtaining a Clan
There were two methods that players could use to obtain a clan:
Forming a Clan
In order to form their own clan, the player had to have at least 50,000 Rating Points.
Joining an Existing Clan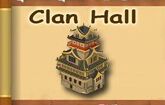 Upon clicking on the "Clan" tab, the player was presented with a list of clans (the top one had the highest glory). Clicking on any clan brought them to the list of members in that clan. Also, a website for their own Facebook group could be found on the left of the list. To apply, players had to click on the 'Join Clan' button, after which the application was sent to the clan's founder. If the founder accepted the player's application, the player joined that clan. If players wished to remove their application from that clan, they could do so by clicking on the 'Cancel clan application' button. Players could only make one application at a time.
Trivia
While fighting bosses or demons, the damage dealt by other clan members was added to the enemy and could be seen on the scoreboard beside the boss or demon. This only applied when the player was in a clan.
More in

Community content is available under
CC-BY-SA
unless otherwise noted.